Highly recommended comfortable and with a thousand uses
What about simply exceptional. Comfortable, good quality. The nice thing about this backpack is that it can be said that it has the predisposition for everything and allows every adjustment. Really beautiful colors and excellent value for money
July 1, 2020
Awesome...
I love the quality and it's also very cute and perfect for kindergarten. Enough space inside and light weight. Beautiful and good value for money
August 21, 2020

Awesome...
The backpack is the very first cream, my kid loves traits over everything and that's why the biggest hit 😊 It's very light and has mega storage space, but it's most important to me, because how many times does something dirty in the first few years in kindergarten 😅 The only thing I didn't like that great was the clicker on the chest only with crepe fastener is fastened so that it was not very stable, I sewed it myself. But on the whole top.
March 3, 2021
Good hiking backpack
I tested it on the last hiking holiday and must say that he fully met his expectations. You still find another way to store things and it is very light and it fits a lot. It is also very stable and does not press on the shoulders even if some water bottles are included. Also the rain cover is very useful and has also been used twice.
July 26, 2021

Great backpack!!! :)
I gave it to my friend for his birthday - he was very happy:) The workmanship looks great - it also looks good visually (the green is super beautiful in nature, see pictures, is called "black green" here). Sits comfortably on the back and has many different compartments and functions - what more do you want;) price performance I personally like great! Would I order again...
August 4, 2021
We like it very much
We like this backpack very much. Looks beautiful and has plenty of space. Teaching materials, lunch box and water fit in and all separate, just the way we wanted. Clear purchase recommendation.
November 19, 2020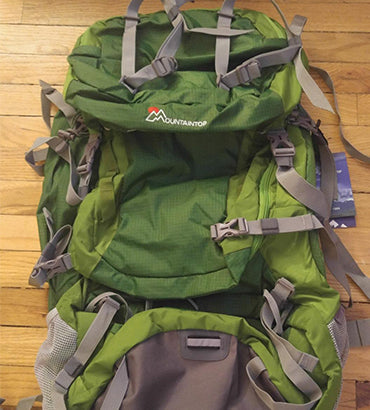 Well-constructed; has panel loading; front pocket; daisy-chains; plastic & aluminum frame